Crane rental for exceptional handling
Nothing is impossible, we can lift anything
Crane rental for exceptional handling
Marraffa offers a lifting and handling service throughout Italy and Europe using cranes (with or without operators) from 500 tons and 600 tons up to 800 tons, special cranes and aerial platforms, in total safety, thanks to a team of specialized operators and equipment in compliance with current regulations, even in particularly complex conditions, such as the handling of industrial machinery inside warehouses and on delicate pavements, including port areas. Lifting with cranes and crane trucks is useful in various work sectors, including construction, industrial assembly, energy sector, wind transport.
Crane rental: Marraffa's options
Marraffa offers crane rental services in Taranto, Bari, Brindisi, Lecce, Foggia, Potenza, Matera, in Molise, Marghera, Ravenna and Porto di Marghera. The cranes available for hire are:
Cranes from 20, 35, 45, 55, 60, 80, 100 tons;
cranes from 200, 220, 300 tons;
cranes from 400 tons;
cranes from 500 tons;
cranes from 650 tons;
Crawler crane, for lifting with vehicles equipped with tracks, useful for transport on uneven terrain.
Marraffa is able to satisfy all lifting needs with cranes all over Italy and Europe, thanks to its logistic offices in northern Italy in Fidenza, Ravenna, Venice (Marghera), but also in southern Italy with offices in Bari (Modugno), Taranto and Martina Franca.
What is an all-terrain crane?
An all-terrain crane is a heavy wheeled verhicle of transport (truck with crane) able to handle heavy materials and carry out lifting or exceptional transport reaching even the highest heights.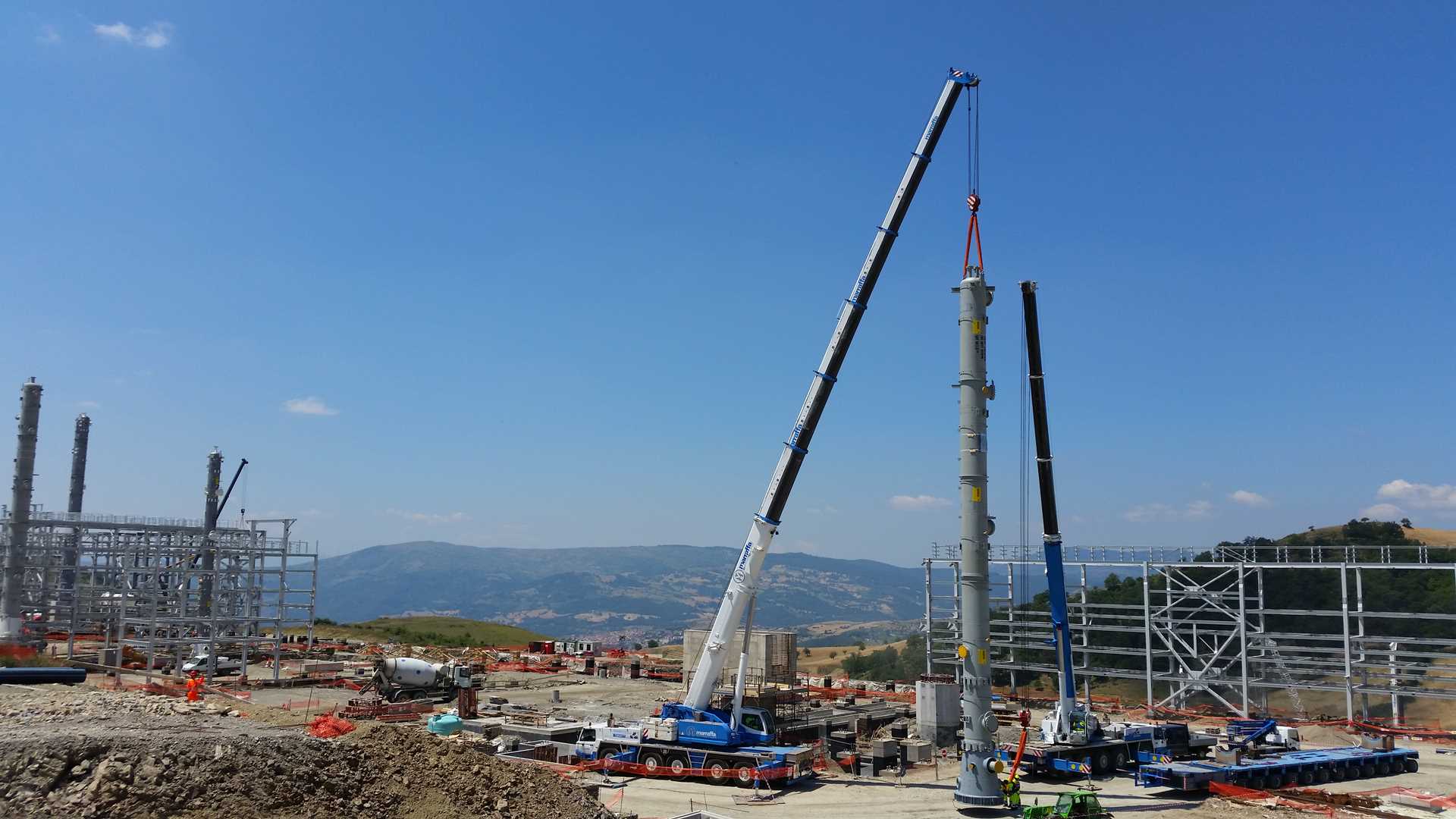 Crane rental: one type for each lift
Crane minicrane: a minicrane is a small crane, especially in transport configuration and can also enter an elevator, so it is considered an indoor crane. It is used for lifting in inaccessible places and, given their weight, they can also be used on unstable or uneven ground, as they have "spider outriggers" able to adapt to the most complex situations and rubber tracks thanks to which it is easy to reach even places after steep slopes.
Electric cranes: they are also called Pick and carry cranes with electric power supply for lifting and handling heavy loads inside sheds or industrial plants. These vehicles are distinguished by their small dimensions and high capacities, allowing the handling in small spaces with high performance.
What is the use of exceptional lifting with cranes and all-terrain cranes?
We have made exceptional large lifting operations with cranes, trucks with cranes and all-terrain cranes, for:
Lifts of metal carpentry
Loading/unloading and positioning of electrical cabins
Building site crane assembly and disassembly
Prefabricated assembly
Verticalization of tanks
Internal movements: presses, ovens, printing machines, textile machinery.
Wind parks
Rental aerial lifting platforms
The aerial platforms for lifting people, with articulated or telescopic boom, are particularly complex machines thanks to which it is possible to lift and station operators at or below height with lifting baskets, avoiding the need to mount bridges, scaffolding or platforms. Tracked and wheeled aerial platforms are used for lifting in particular in the construction sector. Werent is a partner of Marraffa for the rental of all types of machines for lifting people, lifting things and earth moving.
Types of aerial platforms
Marraffa organizes lifts with aerial platforms, also for hire throughout Italy. We have at our disposal:
Aerial platforms of 10, 20, 45, 50 meters;
Aerial platforms of 60, 73, 80 meters;
Aerial platforms of 100;
2 exclusive aerial platforms of 103 meters in height;
Aerial platform capable of descending 20 meters below street level, specific for work and maintenance of bridges and viaducts.

Info and quotes
Request a quote tailored to your needs, contact us by mail or free number: one of our managers will answer in 3 rings providing all the information you need.